Two Minutes With Stephanie Rockett, Global HR Manager
Two Minutes With Stephanie Rockett, Global HR Manager

This month, coinciding with Mental Health Awareness Week, we spoke to Steph Rockett, Infospectrum's Global HR Manager based at our Oxford office. She shares with us her take on working at Infospectrum and what the company has been doing to support employees' mental health during the COVID-19 pandemic.
Steph has worked for Infospectrum for 18 months. Following her work in various sectors providing HR support, this was the first time Steph had worked for a global company. "It's really exciting to be able to support our employees across the globe. First of all, it was pretty tricky to get my head around the various employment laws in place in each regional office, but now it has become second nature." When asked what her role entails: "I'm the focal point for information and guidance for the company on all HR matters. I deal with the whole employment cycle, from recruiting and inducting new team members, to supporting employees with advice and guidance on employment matters, development opportunities within the company, while providing encouragement to colleagues to help them unlock their potential. This support continues through to the point where an employee may take the opportunity to advance their career outside of Infospectrum, although we have been successful in cultivating a corporate culture/working environment that tends to see employees remain with the company for the long term.  I am essentially a partner in strategy execution, helping the company and our team to continue to optimise our service delivery and organisational structure".
When asked about the best part of working for Infospectrum: "My favourite thing about working for Infospectrum is how close our colleagues are to one another, even if the geographical distance is so far. It's always easy to catch up with each other and share knowledge across the company (which is vital), and we are organised in such a way that moving to effective remote working was seamless for us during the COVID-19 pandemic."
As the world locked down in early 2020, remote working left many people feeling isolated and alone. "As a company, we wanted everyone to feel connected. So we arranged group calls, well-being check-ins, mini get-togethers and created chat channels on Microsoft Teams. By creating these avenues, we were able to stay in touch with one another at a very uncertain time." When asked about the difference between office and remote working on mental health, Steph explained, "Various pieces of research have shown that, by working solely from home, you are more likely to be doing longer hours with fewer breaks and less diversity of work. These factors can eventually lead to burnout. Therefore, it was vital for us to allow employees time to spend talking to each other about non-work-related subjects, similar to how you would in the office break rooms. So, we also sent out wellness reminders and mental health tips to help everyone regularly look at how they work remotely and ensure they were taking enough breaks and connecting with their colleagues. A few also started "fake commuting", taking a walk at the beginning and the end of each day to help transition between work and home life."
To take things to the next level for Mental Health Awareness Week, Steph has set a collective challenge for the Infospectrum team. "As the Mental Health Awareness Week theme this year is nature, we wanted to motivate everyone to get out and about as much as possible. So, we've set a goal to collectively (and theoretically) walk from Infospectrum's Head Office in Oxford to our regional office in Hamburg, by logging the steps each of us takes each day. Alongside this, we have been sharing images of the places and things that have been meaningful for us during the walks to spark general conversation amongst colleagues and help everyone feel like we are travelling and not purely stuck at home. It's been amazing to see how much of interest is on everyone's doorsteps!"
When asked about the future of working at Infospectrum:, Steph said, "We're all looking forward to getting back to our respective offices to see our colleagues, when it is safe to do so. Some of us haven't seen one another face-to-face for over a year now! However, we have found that remote working has benefitted some in many ways, so a hybrid working system is something we will be considering going forward. And of course, a company gathering is on the cards as soon as it is possible!"
A few photos from our adventures: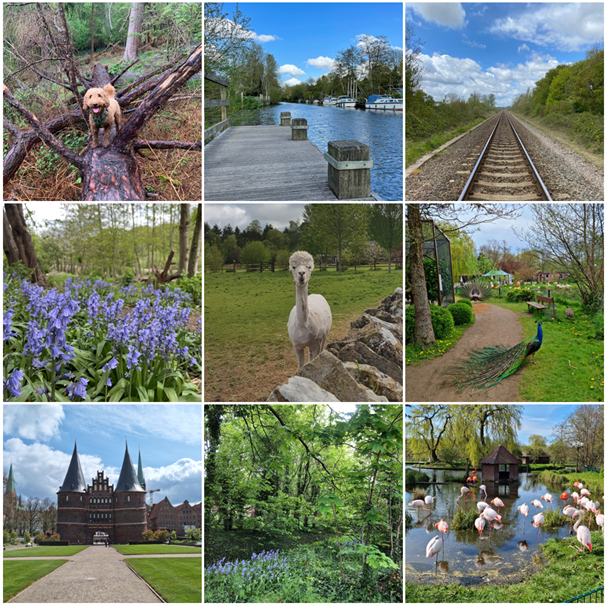 You can view the guide, from Every Mind at Work, that inspired us last week here
Infospectrum has the largest Databank of shipping and commodities risk appraisal reports in the industry. View our latest reports by clicking this link