Whether viewed as regulatory compulsion, stakeholder activism or corporate mission, Environmental, Social and Governance (ESG) compliance is the new frontier of the maritime and commodities sectors.
As part of its integrated approach to risk assessment, Infospectrum has long recognised the potential impact that corporate strategies eschewing ESG compliance can have on operational, financial or reputational parameters. However, today, maritime and commodities businesses worldwide are facing the added challenge of not only reviewing how to incorporate rapidly-evolving ESG regulations and norms into business processes and strategies, but also to execute these cost-effectively under tight timeframes.
A report published by Bloomberg Intelligence (23 February 2021, see Figure 1 below) estimates that global ESG assets are expected to exceed USD 53 trillion by 2025, representing more than a third of the USD 140.5 trillion in projected total assets under management at that time, and a marked increase on the USD 22.8 trillion at the end of 2016. We attribute this growth to a combination of trends - from investor expectations for potentially outsized ESG-compliant returns (although academic evidence for this remains inconclusive), to the need to cater to a growing class of ethical/impact investors on the one hand, while meeting the funding requirement for corporate ESG compliance strategies on the other. For instance, research by PWC¹ suggests various sources as having estimated an investment requirement of circa USD 1 trillion alone to bring the shipping sector into compliance with the IMO's 2050 strategy to bring emission levels down by 50% on a 2008 emission baseline. This includes transition financing for research and development, testing of new technologies, modification of existing vessels, design and construction of newbuildings, and development of land infrastructure that will support the onboard/offshore efforts. While estimates of the amount of investment needed to be channelled into the maritime and commodities sectors vary significantly, it is certain that incorporating ESG standards will not only require significant financial capital but also bring major strategic and operational changes.
Figure 1: ESG Global Projected Assets Under Management by Country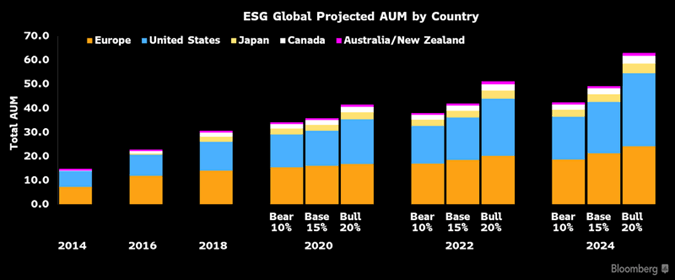 Source: Bloomberg Intelligence²
Whatever the motivation, and notwithstanding the occasional political rollbacks or pockets of public resistance, there is little doubt that markets are transitioning to a more ESG-compliant equilibrium. Yet, it is important to acknowledge that this is indeed a transition period wherein good intentions and policies may exceed what is achievable given the technological developments and operational practicalities required for the safe adoption of market-funded cost-effective environmental solutions. Furthermore, although progress is being made, the conceptual evolution for a reasonably high level of globally acceptable, regularly monitored and strictly enforceable social and governance standards is still some time away, not least due to regional variations in cultural differences.
Infospectrum's rating methodology is designed to incorporate an assessment of a subject company's track record in principled and sustainable stakeholder engagement, while also accounting for the impact of changing corporate strategies and regulations upon various factors (not least sector landscapes, operational exposures, expenditure and investments, competitive positioning, and financial performance), adhering throughout to a holistic approach to risk appraisal. Accordingly, Infospectrum's counterparty reports will, where relevant and ascertainable, outline the presence of a subject's ESG strategies, in particular highlighting meaningful and innovative approaches. In addition, to create awareness of the opportunities and challenges, concepts and trends, and accepted best practices in this rapidly evolving landscape, we have launched Infospectrum's "ESG Desk" which will publish insights and whitepapers on key developments in the ESG sphere. The objective is to give practical and actionable insights using our expertise and stakeholder engagement, with the firm expectation that ESG compliance will continue to gather momentum in delivering a viable and effective global standard.
Click the link below, and register to receive our initial paper, Emissions Reduction and Mitigation in Shipping today:

1. https://www.pwc.com/gr/en/industries/linking-esg-and-shipping-industry.html
2. https://www.bloomberg.com/professional/blog/esg-assets-may-hit-53-trillion-by-2025-a-third-of-global-aum/